Most people want to know God.
People of all ages and situations, of various background and experiences, try to discover if there is a God and…
If such a being exists, who is he?
Some specialists publish what they know about God.
Theologians and scripture scholars present what they have found about him.
Their language aims at being precise but… their texts are not always clear for all of us.
This may be the case with the name of today's feast: the Holy Trinity.
These words translate accurately the Christian doctrine: God is ONE in THREE PERSONS.
While Christians throughout the world express their faith in this God, some people may wonder about the deep meaning of this expression.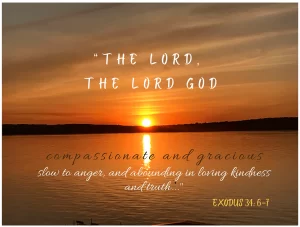 If one of them asked me: 'But who is this God really?'
I would repeat the words we heard in today's first reading –
What God said of himself to his servant and friend, Moses (Exodus 34:4-6,8-9):
« God passed in front of him (Moses) and called out,
"God, God, a God of mercy and grace, endlessly patient –
so much love, so deeply true –
loyal in love for a thousand generations, forgiving iniquity, rebellion, and sin". 
MERCY, GRACE, PATIENCE, LOVE, TRUTH, FORGIVENESS – this is God as he is,
as he wants to be known in the threefold presence of FATHER, SON, AND SPIRIT.     
        
Note: text is available on a different theme, in French at: https://image-i-nations.com/fete-de-la-trinite-annee-a-2023/
Source: Image: perfectinchrist.org