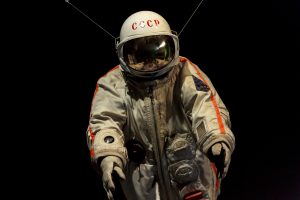 The anecdote is well known of the space exploration of a Russian cosmonaut.
Returning to earth he said with deep conviction and absolute certainty:
"There is no God – I've been up there, and I didn't see any sign of God!"
No wonder, could we reply, because God is NOT 'up there'!
Of course, in the past, many people have been instructed in this way.
Preachers, and teachers of religion, would point to the sky when they mentioned God.
This familiar gesture towards the clouds was meant to describe 'another world'.
Nowadays it is sometimes referred to as 'another dimension'.
We celebrate today the feast of the Ascension.
The gospel text of our celebration (Matthew 28:16-20) is very short and does not describe what happened to Jesus on that day.
The other gospel writers – Mark and Luke – add something to the text of Matthew, telling us:
"The Lord Jesus… was taken up to heaven".  (Mark 16:19)
"As he (Jesus) blessed them, he withdrew from them and was carried up to heaven".  (Luke 24:51)
What the apostles see is Jesus going up and disappearing in the clouds.
This description given to us refers to the experience of Jesus' friends:
Jesus has left them… for good – this is what they are meant to understand.
He will no longer appear to them from time to time as he has been doing since he came back to life.
They are not to imagine that Jesus is hiding behind a cloud!
What they are to believe is what he has told them on the eve of his death:
"In a short time, the world will no longer see me: but you will see me…
On that day, you will understand that I am in my Father and you in me and I in you."   (John 14:19-20)
The Ascension is the beginning of "that day"…
The day when we celebrate NOT a departure but a new way of being present!
 
Another text is available on a different theme, in French at: https://image-i-nations.com/fete-de-lascension-annee-a-2023/
Source: Image: pexels (Nikita)