Daily life imposes on us a fair share of difficult things to do –
tasks to take care of


chores to be done

appointments to remember

commitments to honour…
Some pleasant perhaps, others much less so.
We feel obliged, day in, day out, to make efforts, to overcome our inclination to take things a little easy.
We may have the impression that we must constantly… stretch ourselves!
So, it comes as good news indeed when someone offers to take his/her share of the burden.
God himself is ready to do so!
This is exactly what is offered to us on this Sunday (2nd Sunday of Advent, Year C – Ph.1:4-6,8-11).
In the second reading, we hear Paul assuring the Philippians of this:
"I am quite certain that the one who began this good work in you
will see that it is finished."
The good work is the one mentioned in last Sunday's text of Paul to the Thessalonians (1 Th.3:12 – 4:2):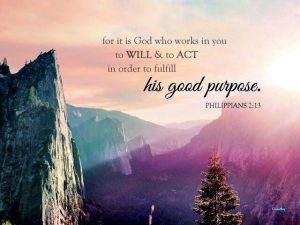 living a life pleasing to God, aiming at being holy.
Surely not a life-style that is easy to make our own!
But we are not asked, or expected, to do this by ourselves – we forget this so easily!
It is GOD'S WORK IN US.

In the chapter following the one of today's reading, Paul will repeat to the first Christians:
"It is God who works in you to will and to act in order to fulfill his good purpose."    (Ph.2:13)
It cannot be clearer: why are we so reluctant to believe it and… rely on it?!
Note: Another reflection is available on a different theme in French at: https://image-i-nations.com/2e-dimanche-de-lavent-annee-c/

 
Source: Image:  Pinterest