An unusual day, especially for people of the 21st century.
But on this day a special message is addressed to us –
a message that is altogether demanding and comforting.
It is an invitation, would we say… a petition from God?
He speaks to us in a direct and personal way through the prophet Joel:
(1st reading – Joel 2:12-18).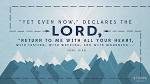 "Even now, declares the Lord,
return to me with all your heart…
Return to the Lord your God,
for he is gracious and compassionate,
slow to anger and abounding in love…
Who knows? He may turn and relent
and leave behind a blessing."
The Lord, OUR God, we are told.
Who is he? Who does he want to be for US?
NOT a thought.
NOT a theme.
NOT a text.
NOT a thesis.
But a PERSON, really REAL.
He is the one calling us, urging us to turn to him, to return to him,
so that he may be able to bless us.
Could we refuse such a request… from him?
Note: Another reflection is available on a different theme in French at: https://image-i-nations.com/mercredi-des-centres-annee-a-2020/

Source: Image: biblia.com