There is no doubt about it: this 1st Sunday of Advent invites us to look to the future.
A promise is essentially doing this and it is a promise that we are given in the 1st reading (Jr.33:14-16).
The text of the prophet Jeremiah gives us God's words in a clear language: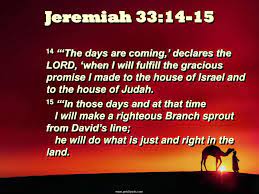 "The days are coming, declares the Lord, when I will fulfil the gracious promise I made…
In those days, I will make a righteous Branch sprout from David's line;
he will do what is just and right in the land."
 
We often speak of God's grace, yes, our God is a gracious God.
He delights in showering on us his blessings of all kinds.
The promise he makes is that the Gracious One – the Righteous One – will do what is good for us.
Another translation of the text uses the words "honesty and integrity"
And the one who is coming to us in God's name – God himself – is called:
"The Lord-our-integrity."
 
We all want to receive good things from God, but how can we be sure that his blessings will be ours?
I would venture to say that the best way is to… ad-just ourselves to God's ways –
that is to become just ourselves –
just in our ways of thinking
just in our ways of judging situations
just in our choices and decisions
just in the plans we make and the options we choose
just in our relations with people…
In other words: behaving with honesty and integrity.
This could be the first step in this Advent period as we set on the path to welcome anew God's coming to us.
Note: Another text is available on a different theme, in French at: https://image-i-nations.com/1er-dimanche-de-lavent-annee-c-2021/
And in a short video, also in French, Ghislaine Deslières offers us another reflection on this 1st Sunday of Advent at: https://youtu.be/lpkMLsxne3s
Source: Image: slideplayer.com