A period of pandemic… this is what we have been experiencing.
The confinement imposed on us is being relaxed but we cannot do all we used to do in the past.
During those months, many people have been busy with different types of activities, meaningful activities.
Some people have decided to spend some time in… sorting out things – things of all kinds.
Objects gathered over the years: old tools and utensils, souvenirs from journeys here and there, letters whose paper has now turned yellow, photos, etc.
Strangely enough, this is what the last part of today's gospel invites us to do (Mt.13:47-48).
It presents us with the scene of fishermen doing precisely that: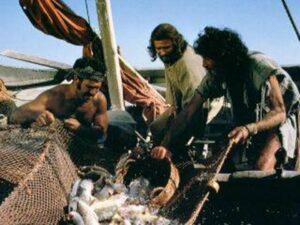 "The kingdom of heaven is like a dragnet that was cast into the sea
and gathered some of every kind,  
which, when it was full, they drew to shore;
and they sat down and gathered the good into vessels, but threw the bad away."
 
Our sorting out will be of a different kind, the things to keep and those to throw away will vary.
But still, a choice is required…
Objects hoarded for a long time perhaps, yes, but more still perhaps: values, relationships, commitments…
Some of them to keep and develop, others to discard without hesitation.
It is interesting to hear Jesus ask his apostles:
"Have you understood all these things?"
 The question is asked of us also… the response is waiting… and the sorting out process also…
Note: Another reflection on a different theme in French can be found at: https://image-i-nations.com/17e-dimanche-de-lannee-a-2020/

And a reflection on the text of the 2nd reading is offered in video format in French at: https://image-i-nations.com/rencontre-inattendue/
Source: Image: Grace Baptist Church