Waiting – there is much of this in our lives, no doubt about it.
We wait for all kinds of things to happen and for different people to come.
We anticipate some events with joy and trepidation.
And we find it difficult to wait with patience for the arrival of certain people so eager are we to see them.
In the gospel of this Sunday (Luke 3:10-18), we see people coming to John the Baptist to be baptized.

And of them, the text says:
"The people were waiting expectantly and were all wondering in their hearts
if John might possibly be the Messiah".
 
This description reveals some joyful anticipation, some eagerness for the coming of the one they call: 'The Messiah'.
What about us… are we waiting for someone, truly waiting, eagerly expecting this Someone?
Are we wondering in our hearts… when he will be coming, under which form he will appear?…
Do we ask ourselves whether we will recognize him?…
Every year, in this period of Advent, we are invited anew to wait for the Lord.
We no longer wonder or ask ourselves questions –
it seems that we know well the One we are waiting for, and we can put a date on his arrival: Christmas day.
But… does this 'historical' coming not hide a more frequent coming of God in our lives?
Of God 'dressed' in a different clothing than the Child Jesus…
Of God, no longer lying in a manger, but knocking at our door for help…
Of God asking for food, work, justice, dignity – all that a human being has a right to…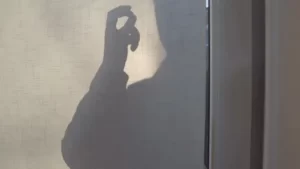 God does not claim these for himself – we usually give him glory and praise and thanks, do we not? 
But he asks for, no, he demands respect, justice, help, for everyone of his children.
HE, TOO, IS… WAITING…
And our period of waiting should be an answer to HIS…
Note: Another text is available on a different theme, in French at: https://image-i-nations.com/3e-dimanche-de-lavent-annee-c-2021/
And in a short video, also in French, Ghislaine Deslières offers us another reflection on this 3rd Sunday of Advent, Year C, at: https://youtu.be/bEtz8IfMSOA
Source: Images: biblepic.com    VideoHive