It happens that, all of a sudden, two children start quarreling while each one claims:
"My father is stronger than yours."
Or, "My father is more clever than yours, he can do this and that…"
We smile at such a behavior and we understand clearly that what is at stake is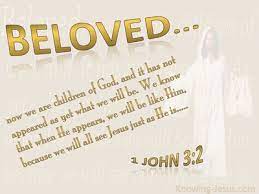 the child's pride at being the son, or the daughter, of that father who is so strong, so clever!
The 2nd reading of this Sunday (4th Easter Sunday, year B) is very short (1 John 3:1-2).
Yes, the text of John's first epistle given to us has only two verses but they express an amazing message.
They invite us to become aware of who we are.
"Beloved, now are we the children of God."
 
Probably, most of you reading these lines have been baptized long ago.
Has it ever happened to you, even only once, that you said to yourself:
I AM the child of God?
Have you ever had this experience of a sudden flash of awareness prompting you to exclaim:
"But it is true, I AM God's son, God's daughter!"?
If you have, I would venture to think that you still remember that occasion as a blessed experience.
This Sunday may be a good moment to recapture this graced happening and… repeat it with renewed thanksgiving to HIM – your Father…
Note: Another reflection on a different theme is available in French at: https://image-i-nations.com/4e-dimanche-de-paques-annee-b-2021/

 Source: Image: Inspirational Bible Verse Images – Knowing Jesus