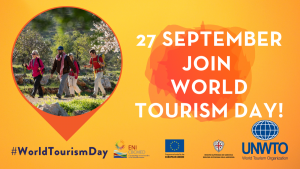 Investing in People, Planet, and Prosperity
The overall disruption in the tourism sector brought about by COVID-19, provides an opportunity to redefine and recalibrate the direction and narratives of tourism investments for a more sustainable future for the People, the Planet, and prosperity.  
This World Tourism Day 2023, the UNWTO,  under the theme "Tourism and green investment" highlights the need for more and better-targeted investments for the Sustainable Development Goals, the UN roadmap for a better world by 2030. Now is the time for new and innovative solutions, not just traditional investments that promote and underpin economic growth and productivity.
Tourism employs one in every ten people on Earth.

Tourism in rural areas can particularly benefit traditionally disadvantaged groups such as women – who make up 54% of the workforce in the tourism sector compared to 39% for the whole economy – youth and Indigenous people.

In emerging destinations, 50% of young people are unable to work in tourism due to a lack of opportunity, resources, or access to academic training.
Source: Text: https://www.un.org/en/observances/tourism-day    Image: ENI CBC Med