It is good to ask ourselves the question: WHAT IS DECENT WORK?
And October 7th is a good day to answer it!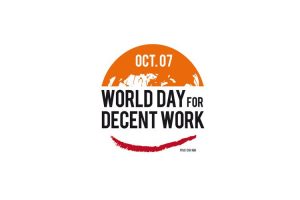 Since 2015, the richest 1% has owned more wealth than the rest of the planet (Oxfam).
71% of people say governments should work towards a pay rise for workers (ITUC Global Poll 2017).
80% of people say the minimum wage in their country is too low (ITUC Global Poll 2017).
Source: Text: 2015wddw.org Images: ilo.org   International Trade Union Confederation