What we see… what we do not see…
 
It is always like this in life, is it not?
We see certain things and we miss others.
We perceive certain realities while we cannot distinguish others.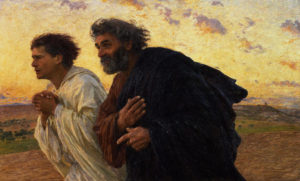 The gospel text of this Easter Sunday made me realize this anew (Jn.20:1-9).
Peter and John come to the tomb where Jesus had been laid and…
they see the pieces of linen neatly folded and the cloth that had been around Jesus' head also laid on the side.
But the person for whom these items had been used, they do not see.
 
Jesus' body – this is what they were looking for – his body was not there.
The two apostles could not fathom that he, himself, could have been there.
They were looking for a corpse… they had to meet a living person!
They were looking for something, they were to encounter SOMEONE.
Their perception had to be transformed,
their vision had to be enlarged,
their understanding had to be deepened.

Is it not what EASTER is all about?
Seeing with eyes that go beyond appearances.
Perceiving with a mind that stretches beyond the obvious.
Understanding with a heart that is attuned to the depths of reality.
The Risen Lord can give all of this… from day to day…
Note: Another reflection is available on a different theme in French at: https://image-i-nations.com/dimanche-de-paques-annee-a-2020/

Source: Image: Unsplash