Do you sometimes wonder at… God's ways?
What he does can be quite astonishing…
And, at times, the way he deals with us, human beings, can leave us rather puzzled.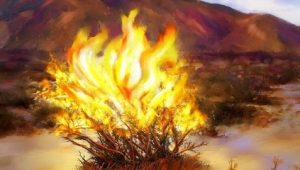 The scene presented in the 1st reading of this Sunday is indeed surprising (Ex.3:1-8,10,13-15).
We see a bush burning but not diminishing in size and not being consumed by fire.
Quite unusual a sight, really.
It is the way God has chosen to draw the attention of Moses –
in fact, to draw Moses himself to God's presence.
God intends to send him to his people to make himself known to them.
I pause and… I wonder…
I look at my life and I ask myself what are the ways that God uses to draw MY attention…
What is my own 'burning bush'?
And… what can I say about God to people?
What does he want me to reveal to them of who he is and what he wants to be for us?
The burning bush can lead to an interesting personal discovery…
of God, and of myself…
 
And another reflection, on a different theme, is available in French at: https://image-i-nations.com/3e-dimanche-du-careme-annee-c-2022/
Source: Image: YouTube