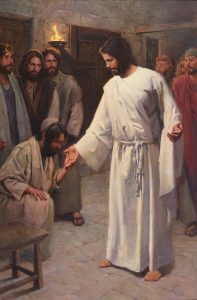 Thomas, the apostle, has been blamed and praised probably in equal measure!
We meet him in the second part of today's gospel (Jn.20:19-31).
It is obvious that he could speak his mind and was not easily influenced by other people.
His companions tell him that they have seen Jesus, yes, the Lord who is risen.
To Thomas, what the other apostles claim is simply impossible, it cannot be.
He will not accept such a thing, they are dreaming.
To him, his friends are mistaken, they take their hopes for reality.
Thomas tells them clearly:
"Unless I see the mark of the nails in his hands,
and put my finger in the mark of the nails,
and my hand in his side,
I will not believe."
 
One week goes by…
One week of denying… questioning himself… weighing possibilities…
Recognizing the impossibility… and then…
Recognizing the Lord himself!
A recognition that expresses itself in words that Christians have been repeating for centuries.
"My Lord and my God!"
 
From disbelief to adoration!
Thomas' journey… which could be mine…
Note: Another reflection on a different theme is available in French at: https://image-i-nations.com/2e-dimanche-de-paques-annee-b-2021/

Thomas introduces himself in the following video at: https://youtu.be/kp1eb-oBH6w

Source: Image: Twitter St. Mary's School