The texts of the gospel come to us in different ways.
They reach us under different expressions and translations.
And they can provoke in us different reactions…
The last verse of today's gospel text (Luke 18:1-8) does precisely this:
it awakens in us thoughts and questions.
Jesus has been teaching about prayer and about the need to persevere in prayer. 
Obviously, this requires faith.
The text goes on to quote Jesus' last words on the matter: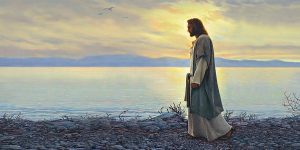 "When the Son of Man comes, will he find faith on the earth?"
An astonishing statement!
Is it not amazing that Jesus himself would ask this?
It is a question that is not addressed to anyone but is possibly a reflection on Jesus' part.
I should perhaps correct this statement…
The question of Jesus not addressed to anyone IS ADDRESSED to EVERYONE, everyone of us.
It is from each one that he expects FAITH.
It is with each one that he hopes to enter a special relationship…
A relationship
not based only on the acceptation of some truths,

not concerned solely on the following of some principles,

not attentive purely to follow traditions, no matter how sacred.
A relationship where one is
relying on him in all situations,

trusting his love and care, no matter what,

never doubting his presence,

sure that he is concerned about all that touches us,

daring to confide to him our life… and death!
It may be was Jesus' surprising question, his seemingly strange reflection is all about…
Note: Another reflection is available on a different theme in French at: https://image-i-nations.com/29e-dimanche-de-lannee-c-2022/
Source: Image: followingmessiah.org