WORDS: we utter them, we hear them, we write them – we use them in all kinds of situations.
They are the tools of communication, they are very much part of our lives.
It is obvious that the meaning of words is essential for good understanding among us.
If the words used are not understood properly, then uncertainty, indecision, confusion, can take place.
This reflection came to me as I read the texts of this Sunday.
The 1st reading (Sirach 27:30 – 28:9), the Psalm used as a response (Psalm 103:1-4,9-12) and the gospel (Matthew 18:21-35), are about the same theme.
They key idea is very clearly about forgiving our neighbour.
Different words are used to speak about the inner sentiment that can inspire us to forgive:
pity – mercy – sympathy – empathy – clemency – tender-heartedness –
all of them are meant to describe the attitude we should have which will lead us to grant pardon to someone.
But there is another word – used in the Psalm – which, to me, expresses best the feeling we should have:
it is that of COMPASSION.
Looking at the two roots of this word: com-passion, we perceive its meaning as suffering with.
It is the attitude of someone who feels for, or feels with, someone else.
This sentiment enables us to become more attuned to God – the forgiving God, he:
"who forgives all your sins…
who crowns you with love and compassion…"
He is the one who asks of us to be like him in this way.
In fact, he makes it the very condition for him to forgive us…
In an echo of today's gospel text, Jesus said in his Father's name:
"If you do not forgive others,
your Father will not forgive your failings either"  (Matthew 6:15).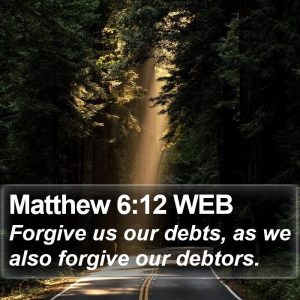 May the Spirit of forgiveness lead us on this way,
as Jesus taught us to pray:
"Forgive us our debts,
as we forgive those in debt to us" (Matthew 6:12).
 
Note: Another text is available on a different theme, in French, at: https://image-i-nations.com/24e-dimanche-de-lannee-a-2023/
Source: Images: pexels.com (Engin Akyurt)     Scripture Images