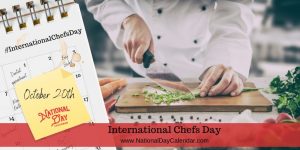 International Chefs Day is celebrated each year on October 20th. The day focuses on educating kids around the world about eating healthy. It's also a day for chefs to pass on their knowledge and skills to the next generation of chefs.
There are approximately 942,000 chefs, head cooks, and food and serving supervisors in the United States. Along with overseeing the daily food service operation of restaurants, chefs also direct other cooks in the kitchen. Chefs use their creativity and knowledge to create and prepare recipes. Additionally, chefs must deal with a multitude of food-related concerns.
The different kinds of chefs include:
Executive chef – as managers for multiple outlets, executive chefs do very little cooking.

Head chef – manages kitchen staff and controls the whole kitchen.

Sous chef – the chef that is second in command to the head chef.

Chef de Partie – runs a specific part of the kitchen.

Commis chef – a junior member of the restaurant staff that works under a chef de partie.

Kitchen porter – assists with basic food preparation, such as peeling potatoes.

Dishwasher – washes all the dishes and cutlery. It's not uncommon for a dishwasher to work their way up the chef ladder.
Some chefs specialize in preparing certain kinds of food. For instance, a butcher chef is in charge of preparing meats and poultry. A grill chef manages the grill. A pastry chef is responsible for creating desserts.
Source: Text & Image: https://nationaldaycalendar.com/international-chefs-day-october-20/