In this period of pandemic, the prevailing mood of most people is not that of exuberant joy,
and this is an understatement.
Sadness, loneliness, and for some even hopelessness, characterize their days.
Downcast, dejected, discouraged, would describe many people.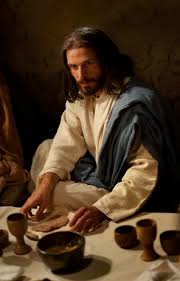 In the first line of this Sunday's gospel (Jn.14:1-12) Jesus says:
"Do not let your hearts be troubled. 
You believe in God; believe also in me."
 
It seems so simple, too simple…
In life – and especially life nowadays – there are many reasons to be troubled.
Sickness, worry about a mortal virus, about money, about the situation of loved ones we cannot visit…
And worry about… death, of course.
We have been repeating to ourselves:
'It will be fine. Together we will overcome'.
And to reassure ourselves we have displayed pictures of rainbows to assert our hope.
But, somehow, it does not always work…
The discouragement returns and sometimes tears run down the cheeks of this or that person.
Jesus says that we should NOT be troubled…
And he speaks from experience –
deserted by his followers (Jn.6:66)

abandoned by his close friends (Mt.26:56)

betrayed by one (Mt.26:15) and denied by another (Lc.22:54-62)

feeling distress and anguish (Lc.22:44; Mt.26:36)
Long ago, the author of the epistle to the Hebrews wrote to the first Christians:
"We do not have a High Priest who cannot be touched with the feelings of our infirmities,
but was in all points tempted as we are, yet without sin."
 
The temptation to say: 'It's too much. I can't bear this any more.'

Yet… like an outstretched hand, help is there…
The help of his presence, his strength, his comfort, his relief…
You need not look for the hand, but HE is there!
Note: Another reflection is available on a different theme in French at: https://image-i-nations.com/5e-dimanche-de-paques-annee-a-2020/

Source: Images: thechurchofchristoflatterdays.org Dreamstime.com