Repeating things – speaking again the words already said – we do it very often.
To remind someone of something, to explain something voiced before, to make sure people have understood.
We do it with people and for people, and we do it also… with God!
Yes, it is something that is often part of our relating to God.
Is it that we fear he has forgotten some of our requests?
Is it that we think he likes to be reminded?
Is it that we like to make sure that we have asked properly?
Returning to God again and again, for whatever reason, is not bad.
He may indeed be happy with our coming again to be in his presence!
But… there may be a danger in repeating…
The danger is that we, ourselves, may no longer be very attentive to what we say.
We may be used to the words our lips pronounce again and again and…
our mind and heart may be busy somewhere else!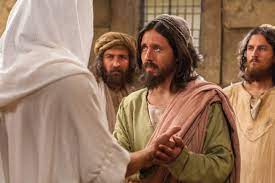 I think especially of some of our prayers.
And today, I think more specifically of the words of Thomas, the apostle, in today's gospel (John 20:19-31) –
the words he spoke to Jesus when seeing his wounds:
"My Lord and my God!"
It is a very meaningful expression of faith and we do well to repeat it.
But, as the words come to our lips, is our mind really present, is our heart expressing itself personally?
Jesus is indeed the Risen LORD and he is truly GOD, we are convinced of this.
But what about the small word 'MY'?
Is Jesus-the-Lord-God really 'MY' Lord and 'MY' God?
When he had risen, Jesus met Mary Magdalen in the garden, he told her:
"Go to my brothers and say to them,
'I am ascending to my Father and your Father, to my God and your God'." (John 20:17)
When Jesus spoke these words, he may have had something in mind…
he obviously stressed that God is OUR Father and OUR God.
It may be good to… REPEAT our reflection on this so as to appropriate Jesus' message…
to appropriate especially… God as OUR God
as truly as Thomas did on that night as he met the Risen Lord –
not as a remote Being, but as a very personal God
who wants to be present to our daily experience whatever it may be.
 
Note: In a video presentation, Thomas, the apostle (personified by Arnold Rodriguez) tells us of his experience with the Man of Nazareth: https://youtu.be/kp1eb-oBH6w
And another reflection, on a different theme, is available in French at: https://image-i-nations.com/2e-dimanche-de-paques-annee-c-2022/
Source: Images: The Better Fundraising Company    www.churchofjesuschrist.org