There is a proverb that says: "There is no deafness worse than that of the one who does not want to hear."
Jesus' words as he concludes his parable in this Sunday's gospel text (Mt.13:1-23) could be addressing this condition: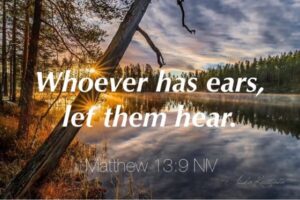 He says: "He who has ears to hear, let him hear!"
 
It is a matter of choice, the occasion of a personal decision.
We are all aware how much our daily life is filled with sounds, and noises, and cries.
Words, music, shouts surround us, much of it hardly registered in our consciousness.
Could it be that we let God's Word go by equally unnoticed, unacknowledged?
We would then miss the blessing that Jesus says that his apostles enjoy:
"Blessed are your eyes because they see,
and your ears because they hear."
 
I ask myself: Am I missing out?…
Lacking attention, interest, motivation?
Perhaps not aware that the Word is addressed to ME personally?
Not daring to believe that I, too, could be blessed?
LISTEN – HEAR – PERCEIVE… a BLESSING!
Note: Another reflection on a different theme in French can be found at: https://image-i-nations.com/15e-dimanche-de-lannee-a-2020/

Source: Image: Wisdom and Instruction