The theme of the Holocaust memorial ceremony will be
The theme highlights the universal dimension of the Holocaust and encourages education on this tragedy so that future generations will firmly reject all forms of racism, violence and anti-Semitism. The Holocaust was a defining point in history and its lessons have much to teach about the danger of extremism and the prevention of genocide today.
New Educational Product: Poster set "The Butterfly Project: Remembering the Children of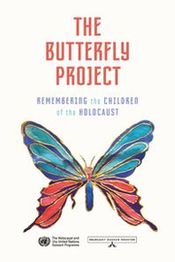 the Holocaust"
The Holocaust and the United Nations Outreach Programme has partnered with the Houston Holocaust Museum to produce a set of 14 posters based on the Museum's exhibition The Butterfly Project: Remembering the Children of the Holocaust for display by the global network of United Nations information centres. The exhibition outlines the impact of the Holocaust on children, and showcases an educational initiative called The Butterfly Project developed by Holocaust Museum Houston to teach this history to young people, encourage them to remember the 1.5 million children who perished and to stand up against hatred and prejudice.

Source: Text: UN Images: Newcastle City Council  UN