Praying… an activity which always finds us in need to learn –
to learn how to approach God and, of course, what to say when we are in his presence.
Bookshops and libraries are full of material published precisely to guide us with methods and advice about praying.
Many spiritual authors suggest what they consider the best way to pray; their thoughts and suggestions cover many pages.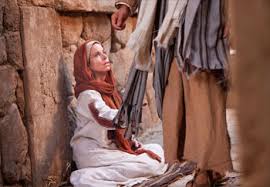 The Syrophoenician woman we meet in today's gospel (Mt.15:21-28) may not have known how to read, but…
she knew how to pray, and how to pray well:
"Lord, have mercy on me.
Lord, help me."
 
Few words – short words – simple words –
but words that touched Jesus to the point that he did for that woman precisely what she was asking for.
Why do we sometimes think that God needs long explanations of our needs and detailed requests for his assistance?
Jesus has assured us: "Your Father knows what you need before you ask him." (Mt.6:8)
 
The Syrophoenician woman was right after all!
"Lord, have mercy on me. Lord, help me" – this could be enough… could it not?
Note: This gospel scene is also offered in video format at: https://youtu.be/M-KMEFoxhSE
And another reflection on a similar theme in French can be found at: https://image-i-nations.com/20e-dimanche-de-lannee-a-2020/

Source: Image: theministryofezra.com